Madison Beltline Flex Lane
Date posted
February 19, 2023
2023 Engineering Excellence Best of State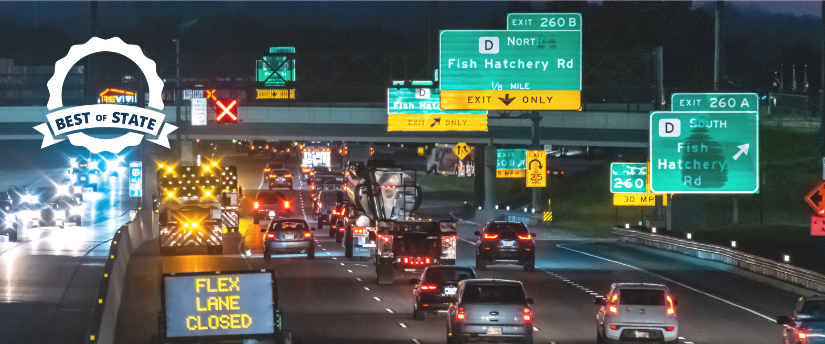 Entering Firm: HNTB & Strand Associates
Client: Wisconsin Department of Transportation
The Madison Beltline carries more than 130,000 vehicles a day and is the crucial transportation for the region. The aging corridor needed repair and a solution for peak hour congestion.
Flexible Engineering
HNTB and Strand Associates worked with the client to determine that an asphalt overlay was necessary to keep traffic moving safely and smoothly. The overlay is a standard method to extend the life of a road. As part of that plan, HNTB and Strand Associates considered the implementation of a dynamic shoulder lane.
The "flex lane" uses the road shoulder as an extra travel lane during peak hours. The solution delivers quicker results at a much lower cost than traditional lane expansion. The flex lane is the first application in Wisconsin and delivered immediate results.
The Key to the Design
The traffic management center ensures that the flex lane runs smoothly. This hub uses a wealth of data from cameras, sensors and in-person inspection to determine when to open or close the lane. Lane control signs along the length of the beltline show drivers this information. This improves safety and gives users confidence in the system.
Awards judge Brandon Braithwaite said "The Madison Beltline Flex Lane project is innovative, sustainable. The social and economic value improvements for Southwest's Wisconsin's busiest roadway are immeasurable. Congratulations to HNTB and Strand Associates for executing this complex project during challenging pandemic and supply chain conditions."
Saving Time & Money
The flex lane improves peak travel time by 30-40 percent on Madison's busiest corridor with no changes to overall safety. This innovative solution has paid big dividends for users.