Proactive Rural Highway Resurfacing Proves Safer and Smoother for Travelers
Date posted
March 16, 2021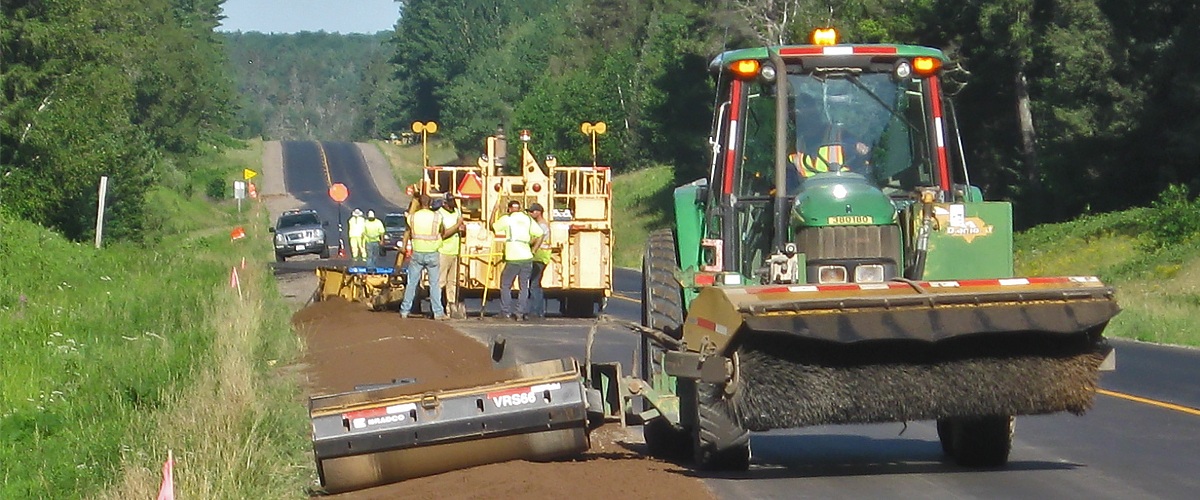 Written By: Amanda Zacharias, PE, VMA, Alfred Benesch & Company

State Highway (STH) 70, between Divide Road and STH 55, in Forest County, WI, isn't part of the National Highway System – but a projected increase in traffic volumes on this 7.5-mile, rural minor arterial required improvement. Key priorities for the project, located in the Wisconsin Department of Transportation's (WisDOT) North Central Region, included safety, minimal impacts to travelers and cost efficiency. To achieve that, a solution to mill and overlay the roadway, update guardrail, and replace failing culverts was implemented.
Safer, Smoother Ride
Projections showed an increase in Average Daily Traffic (ADT) over the next two decades on STH 70. Therefore, a main concern was to address continued pavement deterioration. While the pavement condition was still technically considered fair, repairing the cracking and other issues provided the best cost/benefit ratio for maintenance on this type of roadway. By addressing the potential problem now, WisDOT not only saved in construction cost, but helped to prevent any deterioration from becoming a hazard to the traveling public into the future.
Rather than reconstructing the highway section, resurfacing was the optimal solution given the setting and circumstances. There was still service life left in the existing pavement, so the minor mill and replacement strategy extended that life and reduced impacts to transportation and commerce by enabling work to be performed while under traffic. This prevented a lengthy, 40+ minute detour and additional costs to the traveling public. In addition, there were no crash-related safety concerns, reinforcing that resurfacing the existing typical section was a cost appropriate solution.
Preserving the Natural Habitat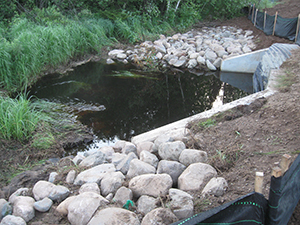 Another key project focus entailed the replacement of ten deteriorated cross culverts to prevent the failure of the roadway embankment. A non-standard culvert replacement was also performed at Alvin Creek, an important trout spawning and thermal refuge habitat for the Brule River. While that culvert wasn't in poor condition and replacement was not required, the Wisconsin Department of Natural Resources (WisDNR) proposed improvement to help preserve the natural habitat and allow trout passage. Extensive coordination with the WisDOT, WisDNR and the United States Forest Service made that happen within the time constraints of the project.
Improving Public Safety
To greatly improve public safety on STH 70, the existing guardrail was replaced to meet current WisDOT standards and reduce potential crash impacts. The current Midwest Guardrail System (MGS) performs better in crash testing and would reduce costs for maintenance. A balance was struck to use a combination of long and standard posts under that system. While the long posts were more expensive, the grading modifications required to install all standard posts would lead to complicated installation, increased environmental impacts and potential right-of-way needs. Therefore, the solution involved using standard MGS posts and transitioning to long posts only as necessary to minimize cost and impacts.
Thanks to design efficiencies including the overall mill and resurface repair solution and efforts to boost safety to the public through guardrail and culvert replacements, STH 70 is now safer and smoother and for travelers today and into the future as traffic volumes continue to rise.
About the Guest Blogger

Amanda Zacharias, PE, VMA is a Senior Project Manager at Alfred Benesch & Company and led the design for the STH 70 project. Benesch, a longtime member of ACEC, is a national, 750+ person professional engineering firm with offices in Milwaukee and Oshkosh.