STH 29/CTH VV
Date posted
February 19, 2023
2023 Engineering Excellence State Finalist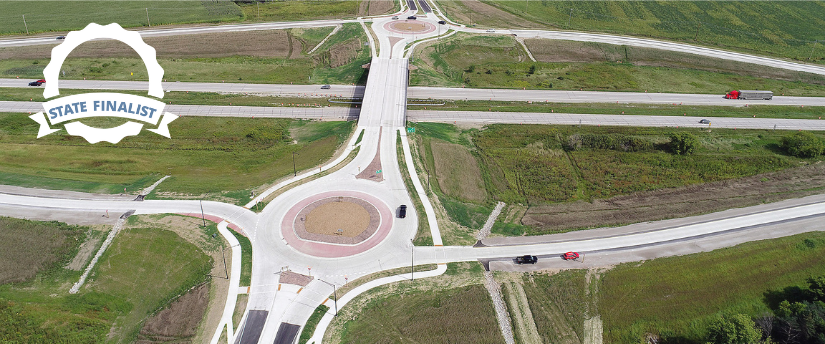 Entering Firm: Ayres Associates Inc.
Client: Wisconsin Department of Transportation
Brown County has been planning and working on a new interchange near Green Bay for over 12 years. The interchange was dangerous and resulted in traffic backups during peak hours. Funding was continually delayed, and the problem was getting worse.
Ayres Associates worked with the client and the county through the entire saga. The team evaluated the needs of the at-grade interchange between the highways and developed the preliminary solution of a restricted crossing U-turn (RCUT). This was one of the first RCUT intersections in the state and significantly improved safety by slowing down traffic and avoiding dangerous crossings. After this temporary solution, the design evolved into a diverging diamond interchange which is a modern design that incorporates roundabouts to keep traffic moving, avoids head-on collisions and improves safety for all users.
One of the key challenges was securing funding. The design team assisted the client and the county in securing federal grant funding to supplement local resources. That additional funding was essential to complete the project but also placed significant time constraints on construction. Construction took place in less than a year which is considerably accelerated from a normal schedule.
The final product was worth the wait. The new interchange improves business opportunities in the area and keeps users safe.