USH 18/151 (Verona Road) Reconstruction Stage 2
Date posted
February 20, 2022
2022 Engineering Excellence Best of State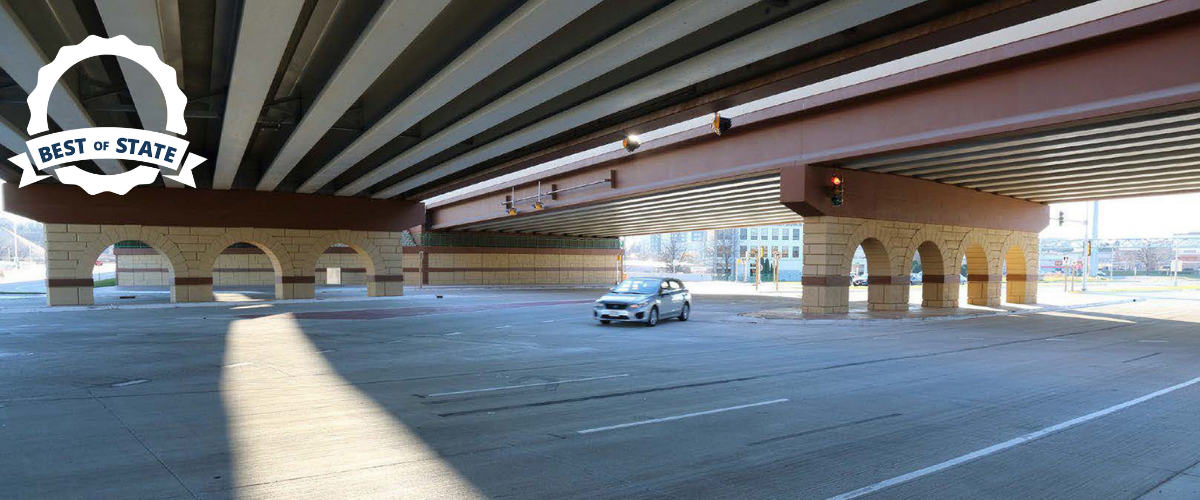 Entering Firm: Strand Associates Inc.
Client: Wisconsin Department of Transportation
Madison is the fastest growing metropolitan area in Wisconsin. This growth requires expansion of transportation resources as suburbs grow, new ones pop up and people move around. Verona Road is one of the backbones of this transportation network and expansion was urgently needed.
Designing for the Future
Strand Associates has worked on Verona Road improvements for year. The core element of this segment was to raise Verona Road over a busy county highway. The traffic volume caused major backups and safety issues. The new design uses a single point urban interchange to move large volumes of traffic and provides the design team with space to support the road above. This was only the second use of this design in the United States.
Other at-grade intersections were renovated to avoid stop-and-go traffic. A rarely used tight urban diamond interchange saves space. A new seven span bridge raises a state bike/pedestrian trail, considerably improving safety and keeping traffic moving. Supplemental streets in the area were improved so the whole experience is a lot more efficient and doesn't back up onto the main roads.
Awards judge Tom Buchholz said "This project was very complex and required detailed construction staging plans to build in this growing corridor in Dane County. The completed project improved traffic flow, safety and local connectivity for pedestrians and bicyclists. The project was completed on time and under project. Well done".
Another Stage, Another Success
The second redesign phase of Verona Road made an immediate impact. In one year since completion corridor crashes have decreased 60 percent and travelers saved over 300,000 hours of delay and associated emissions.